Established in 1873, Deep Ellum is located east of downtown Dallas. Then it was also know as Central Track because of it's proximity to the Houston and Texas Central Railroad.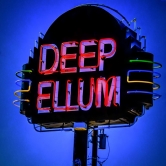 Deep Ellum was one of Dallas first commercial areas for African-Americans and European immigrants. The Continental Gin Company opened in 1888 and became the largest manufacturer of cotton processing equipment in the United States. Ford Motor Company built one of its earliest plants, in 1914, building Model Ts in Deep Ellum. Adams Hats moved into the building in 1954.
In the 1920's the area became a center of the music scene in Dallas. Many of the early jazz and blue artist of the day performed there including, Robert Johnson, Blind Lemon Jefferson, "Leadbelly" Ledbetter, Texas Bill Day, Alex Moore, Bessie Smith, Willie Johnson, Lightnin' Hopkins and many more.
After World War 2 many of the businesses in the area closed and folks began moving to the suburbs. The music all but died. In the 1980, the area began to be revived and the music returned with the help of local bands like The Old 97s, Toadies, the New Bohemians, The Dixie Chicks, Tripping Daisy and others. Soon national touring bands such as Nirvana and Pearl Jam began performing in Deep Ellum.
Many of the business in Deep Ellum began to commission local artist to paint murals on their buildings. These many wall murals have turned the area into a walking outdoor art gallery. Almost every wall has become an artist's canvas.
In 2012 the 42 Murals Project was started – local and international artist were able to show their talent by painting 42 murals on some of the historic building in Deep Ellum.
Deep Ellum is once again one of the cultural centers of Dallas. The area continues to be a music and art center. There are numerous restaurants Deep Ellum. Great area to visit to see not only the wonderful murals but to also to visit an important historical area of Dallas.